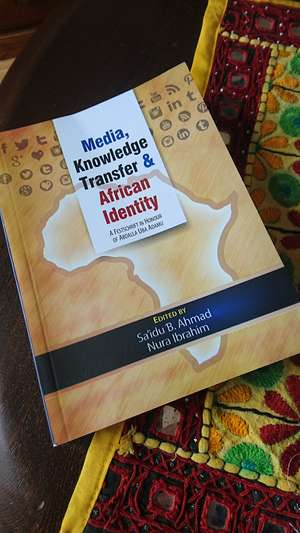 Artop Annotated Bibliography
Below is an annotated bibliography summarising some key writings relevant to the research themes of the 'ArtoP: Articulations of Politics in Nigeria' Research Project. This is a very diverse selection spanning multiple disciplines, including art history, politics, film studies, media studies, anthropology, literature, and memoir. Most relate to Nigeria specifically, although case studies from elsewhere on the continent are also included where they show parallels with developments in Nigerian art and politics. This bibliography will grow as the project progresses, so please let us know if you have any suggestions.     
Achebe, Chinua. There Was a Country: A Personal History of Biafra (London: Penguin, 2012)
 A mixture between a memoir and a history of the Nigerian Civil War, told from the perspective of the author's personal involvement in the Biafran state project. Contains some reflections on mbari shrines (p18 + 56); the practice in Eastern parts of Nigeria of building elaborately decorated buildings containing large numbers of sculptures representing elements of the spiritual and social world. Achebe characterises mbari as "art engaged in the process and celebration of life"; an artform which is intrinsically tied to the life of a community. Moreover, it is an artform which inherently recognises and incorporates the constancy of change in social life. He uses mbari as a metaphor for the role of the writer in society; stressing the need for writers to engage with and reflect the society of which they are a part. Achebe also argues that literature in Nigeria is always political: "I believe it is impossible to write anything in Africa without some form of commitment, some kind of message, some kind of protest. In my definition, I am a protest writer, with restraint. Even those early novels that look like very gentle recreations of the past—what they were saying, in effect, was that we had a past. That was the protest, because there were people who thought we didn't have a past. What I was doing was to say politely that we did—here it is." (58). He cites H.M. Cole's Mbari: Art and Life among the Owerri Igbo (Bloomington: Indiana University Press, 1982) on mbari. See also Achebe's comments on art and change in igbo-speaking areas (59). To read: How the Leopard got its Claws.          
Agbo, George Emeka. "The Struggle Complex: Facebook, Visual Critique and the tussle for Political Power in Nigeria" Cariers D'étude Africaines 230 (2018): 469-89
 The production, manipulation and circulation of digital photographs on social media is a means for engaged and active citizens to critique and expose elite-driven power struggles and comment on the shortcomings of democratic rule. Agbo presents a case study of photographs and memes that were circulated on facebook by citizens who were satirizing and decrying a 2019 incident whereby the PDP locked members of the APC out of parliament. Agbo also examines facebook comments on these images as representative of the ongoing negotiation of the photographs meaning. Employs Ariella Azoulay's notion that state institutions aren't the only actors who can use photography to wield power. On the contrary, Agbo argues that the production and circulation of digital photos on facebook is a means by which ordinary Nigerians can flex their muscles as empowered citizens. 
Bischoff, Lizelle.  "The future is digital: an introduction to African digital arts." Critical African Studies 9, no. 3 (2017): 261-267.
In this introduction to a special issue on Digital Arts in Africa, Bischoff broadly defines digital art as any creative process which makes significant use of digital technologies in artistic creation, dissemination or display. She argues that it is best thought of as an umbrella term which includes a plethora of techniques, technologies and practices. The special issue was put together to showcase and encourage research into digital art in Africa, and in recognition of the fact that digital technologies have transformed creativity and art in Africa, and have often allowed the development of new approaches such as digital collage. The active adoption of digital technologies by Africans have also created new creative industries which remain under-researched.  Digital technology has been harnessed by African artists to make political comment and debunk stereotypes projected onto Africa from outside, and has afforded artists opportunities to circulate indigenous knowledge within global flows of information which are perhaps more democratic than previous artistic networks. The introduction take an optimistic view of the impact of digital technology in Africa, whilst also recognising the problems many still face in accessing the internet. It also highlights the particularities of internet access in African countries, where most of the population primarily or exclusively access the internet through smartphones rather than desktop computers. Bischoff highlights some prominent platforms for African digital art, such as africandigitalart.com, africacartoons, awesometapesfromafrica and others. The introduction then gives an overview of the contents of the journal, all of which seem well worth reading.
Callus, Paula. "The Rise of Kenyan Political Animation: Tactics of Subversion." In Taking African Cartoons Seriously, edited by Peter Limb and Tejumola Olaniyan, 71-93. East Lansing: Michigan State University Press, 2018
 Callus examines the tactics used by Kenyan animators and multimedia artists to produce and distribute their work around the time of the 2008 post-election violence in Kenya, especially their use of social media as a distribution channel for political animation. These tactics allowed animators to evade censorship and articulate subversive political critiques. Wider internet access, the increasing availability of digital technologies and software and the rise of the participatory spaces of web 2.0 all helped create an environment conducive to the production and circulation of political animation. Animators circulated their work on social media in order to evade the state's well-established censorship of print media, as the internet was at that time subject to a much lesser degree of state surveillance and control. However, animation not only served counter-hegemonic causes. Interestingly, the digital fluency and creativity demonstrated by animators came to the attention of the state, who have commissioned animators to produce content which tows the government line. Moreover, animators have often relied on patronage and funding from foreign organisations, who have their own political agendas. Within this complex web of competing interests, animators have operated on ground not of their choosing, but have nevertheless used tactics to recognise and create opportunities for subversive voices to be heard. Callus highlights the trajectory of Gado as an example of how artists performed a tightrope act; producing seemingly 'tame' content for established media channels whilst also seizing transient opportunities to disseminate more radical content online. Gado's XYZ show toned down its political content on broadcast television but found more freedom when distributed online. The success of the TV show also allowed Gado to create an online streaming platform , BUNI TV, which published hard-hitting political animations. Additionally, the widespread perception that animation is for children has allowed it's political dimension to fly below the radar of state censors. Callus observes that cartooning and animation share many devices, such as iconic representation, caricature, anthropomorphism, and "amplification through simplification." Many artists switch between cartooning and animation at different points in their careers, often because of tactical considerations.         
Callus, Paula and Cher Potter. "Michezo Video: Nairobi's Gamers and the developers who are promoting local content." Critical African Studies 9, no. 3 (2017): 302-326
 In this landmark article Callus and Potter present their research into game developers and gaming culture in Kenya, as well as the technological and social networks which connect and sustain the two. The authors study gaming and its ecosystem from a variety of perspectives and their analysis is informed by ethnographic and technological considerations. They conducted qualitative interviews with a variety of individuals and present their findings in a series of narrative profiles which serve to illustrate the distinctive and overlapping trajectories of different actors in the gaming scene. These narratives are couched in an analysis of the networks and spaces - both real world and virtual - which sustain the gaming industry in Kenya. They discuss the importance of real world spaces such as video game parlors and comic conventions as well as virtual platforms including youtube and facebook channels. The boundary between designers and gamers is fluid - most designers began as and remain avid gamers. Another fascinating strand of this article looks at how game designers incorporate local mythology and socio-political concerns when developing game environments, rules and characters. Designers have a variety of motivations for turning to local cultural resources. Some do so as a self-conscious strategy to preserve indiginous knowledge. Others see it as a means of appealing to local consumers. Others remix global cultural forms, such as western comic books and superheroes, and refashion them with local and afrofuturistic characteristics, in order to mitigate the cultural imperialism of western comics and games. However, games are not only local but are simultaneously transnational - they are dynamic forms which appropriate global gaming conventions and marry local and global popular cultures. They also access, use and share ideas and technologies across global networks. Callus and Potter also provide interesting context about the technological landscape in Kenya. The Kenyan Government has invested significant funds in developing broadband access and the creative industries. Most Kenyans access the internet via smartphones, which influences how game designers create and market their games. There are three groups of gamers, those who have their own PCs and internet access, those who game at parlours, and those who play games on smartphones. The latter is the largest category and cuts across class and economic demographics. Callus and Potter also highlight so-called "serious" games (i.e. those whose aim is primarily didactic) and satirical games that engage with electoral politics and local political issues in Kenya. A comparison could be made between a Kenyan game highlighted by Callus and Potter called the Election Thief (2013) and the Nigerian game Naija Run (2019), developed by Magic Carpet Studios.   
Chonka, Peter. "Cartoons in Conflict: Amin Arts and the transnational geopolitical imagination in the Somali-language public sphere". Critical African Studies 9, no. 3 (2017): 350-376
 This article posits an interesting idea; that the digital dissemination of cartoons may be eroding the division drawn between locally produced cartoons and those produced by people in the diaspora. The same might be said of other visual arts which spread across transnational media flows. The article focuses on the work of Amin Amir, a cartoonist based in Canada who is the most widely published political commentator across the Somali language public sphere. His work is published daily in newspapers across the Somali territories (a fragmented political and media landscape), as well as the vast array of political websites which have emerged, serving Somali-language audiences who increasingly obtain their news online. His geographic distance and exploitation of digital media flows allows him greater freedom to make sharp criticisms of a wide range of political actors and also affords him a greater chance of being published across the Somali territories rather than being locked into publishing within only one polity. He uses this position to make appeals to the nationalist sentiments of Somali-speakers and also activate widely shared notions of Ummaadda Soomaaliyeed, a broad identity or 'imagined community' encompassing Somali speakers worldwide. Different regional papers make selective use of those cartoons which align with their political objectives, often copying and pasting them from other sources with scant regard for copyright. Thus his works are not just the product of a diaspora but part of the on-the ground media environment across the Somali territories. Producers and consumers perceive the Somali public sphere as transnational, and ascribe to a supranational sense of Somali identity despite political differences. When studying cartoons Chonka makes the point that it's important to consider the local context of reception and circulation but also to question the sharp divide also said to exist between local, regional and transnational – as increasingly these are overlapping, a trend exacerbated by digital dissemination.
Dike, Deborah N. "Countering Political Narratives through Nairaland Meme Pictures" Cahiers D'étude Africaines 230 (2018): 493–512
 Excellent article showing how political claims of Buhari's APC and Jonathan's PDP in the 2015 election were critiqued and disputed using memes posted on the popular forum Nairaland. Memes satirized both parties claims to represent a new approach to politics and a break with the corrupt practices of the past. Memes were used by users of Nairaland to transmit and transform discourses on a visual plane, combining visual literacy creativity and textual wit to negotiate competing political claims and act as a form of political rhetoric.  
Ekwensi, Cyprian. Jagua Nana. Penguin, 2018 [1961].
 A classic novel centred on the exploits of Jagua Nana, a woman enjoying a hedonistic life in early 1960s Lagos. In the second half of the novel, Jagua becomes involved with a politician, Uncle Taiwo, who schools her in the cynical arts of politics and electioneering in Nigeria, and invites her along on the campaign trail for his party, Other Party One (OP1). Jagua's former lover, Freddie, is contesting the same seat under the rubric of a rival party Other Party Two (OP2). Freddie explains his motives: "I want' money quick quick; and politics is the only hope." Both Freddie and Uncle Taiwo are killed in election-related political violence.   
Gbaden, Blaise Gundu and Emmanuel Ikemefula Irokanulo, "Images of Power in Contemporary Nigerian Paintings" Mgbakoigba, Journal of African Studies 5, no. 1 (December 2015): 1-12
This article looks at five artists whose work examines notions of power in contemporary Nigeria. Chicke Obeagu uses mixed media collages to look at patriarchal predatory power, transactional sex in universities, and elite-level competition and corruption. Dhlimi Munza is a Lagos based artist who romanticizes the figure on horseback as a symbol of legitimate authority and regional power, as does Abiodun Olaku (b.1958). Blaise Gundu Gbaden (b.1966) installations engage with corruption. Emmanuel Ikemefula Irokanulo (b.1968) uses shadows as a means of commenting on the fluidity of power, as well as the widespread experience of displacement in contemporary Nigeria.
Charles D. Gore, "Commemoration, memory and ownership: Some social contexts of contemporary photography in Benin City, Nigeria." Visual Anthropology 14, no. 3 (2001): 321-342
This article draws on extensive fieldwork to illustrate how photography in Benin City is harnessed towards local memory practices and is used as a means of legitimizing institutions such as Kingship and Family. For example, with Kingship, photography is used in ways which reference the longevity of this institution and which asserts an unbroken, dynastic link between the pre-colonial Benin Kingdom and subsequent Obas who ruled after the interregnum. In such ways, photography is part of longstanding practices of court art, whereby images are used to communicate the legitimacy of kingship. However, these practices are also constantly transforming, and photographic practices are also shaped by discourses and practices of the Nigerian nation state. Photography is used to not only legitimise kingship but also take part in the formation of an Edo-speaking ethnic identity, which is used as a political and administrative tool to access state resources under a prebendal system. Despite this, Gore shows how portraiture conventions in Benin City are common across much of Southern Nigeria. Gore also explores how the controlled dispersal and distribution of photographs in Benin City is a means of conferring status on particular individuals and reinforcing their place in a hierarchy of social relations headed by the Oba. For example, only select individuals are allowed to display photographs the Oba, and furthermore photographs of the Oba at particular events or undertaking certain ritual duties are further restricted to specific individuals. Interestingly, photographs of the Oba are considered to belong to the Oba, rather than the court photographer who took the snap.  Even in the case of more popular images of the Oba, such as those reproduced in almanacs, only certain vendors are allowed to sell these, so their dispersal is again controlled. Importantly, this article displays how the significances of photographs are determined through their use and re-use. For example, photographs of the Oba reproduced in colonial publications were used to reinforce colonial discourses of the decadence of Benin City, and the need for the civilising mission. However, the same photograph of the Oba was reproduced on a textile commemorating the centenary of the punitive expedition, appearing alongside photographs of subsequent Obas. In this context, rather than seeking to discredit the Benin Kingdom, the textile uses the same image to legitimize and reify kingship. Another fascinating example in this article shows how even the use of photography as a tool of surveillance by the bureaucracy  of the Nigerian nation state can be subverted – ID photographs are worn by members of a particular shrine community and used as a means of visualising their membership of this community to outsiders.          
Haynes, Jonathan. "Political Critique in Nigerian Video Films." African Affairs 105, no. 421 (October 2006): 511-533.
It is commonly stated that Nigerian Video films of the 1990s studiously avoided political topics. The explosion of video films produced in Nigeria in the 1990s were derided by commentators from the media, government and universities as frivolous, superficial and overly commercial; lacking any political or social efficacy and unwilling to deal with any 'serious' topics for fear of jeopardizing profit margins. Haynes challenges this conventional wisdom, arguing instead that Nigerian video films reflect a popular political consciousness that is easily missed by those outside of its primary audiences. Haynes develops this argument with references to three genres; films about kingship and chieftaincy, crime thrillers and melodramas. Haynes then turns his attention to films produced after the end of military rule which enjoyed greater freedom to openly tackle political themes. Films about kingship and chieftaincy are often used as allegories of national state power and the pitfalls of contemporary governance. They stress the constitutional balance of power between rulers and the community, the equilibrium of which depends on the consent of the populace. Indeed, many of these films dramatize what happens when avaricious rulers transgress this delicate relationship, communicating a belief that communities have the democratic right to not only confer but also withdraw legitimacy from political rulers (see the films directed by Tunde Kelani). Haynes examines crime thrillers, in particular vigilante films, in which vigilante groups are cast as the protectors and avengers of communities who have been terrorised by predatory politicians and other 'big men' operating in cahoots with organised crime (See Lancelot Imasuem's Issakaba films). Nigerian films have often used money rituals as an allegory for the ruthlessness of politicians and their parasitic relationship with their clients (Kenneth Nnebue's Rituals).   Melodrama is an effective vehicle for political comment as the personal and political are deeply intertwined in Nigeria's patron-client based political system. Melodrama captures and amplifies the machiavellian intrigues of real-world high politics and elite contestations of power. The glamour and conspicuous consumption prevalent in melodramas reflects a wealth that few in Nigeria enjoy. In a country in which securing political power is widely seen as the quickest means of self-enrichment, the characters in nigerian melodramas are, unsurprisingly, often politicians. However, this does not always mean the film is explicitly political. One melodrama that is explicitly political is Dark Goddess (1995), which mirrored much of what was known about the struggles for power between Abacha, Abiola and Babangida. The film dramatized such maelstroms as besetting a civilian rather than military government, in order to avoid censorship and ensure plausible deniability. After military rule (1999-) Nigerian video films were able to more openly tackle political topics, such as Stubborn Grasshopper, based on Sani Abacha. Abacha had died and had few political friends left, so it was a relatively safe topic, whilst other political topics, such as the Biafran War, remain more taboo (see the renaming of Simi Opeoluwa's Guns of Abacha as The Battle of Love, which was also subject to cuts by the censors board).                       
Jimoh, Ganiyu A. "Masked in Metaphors: Counter Narratives in the works of Nigerian Cartoonist Mike Asukwo" African Arts 52, no. 2 (Summer 2019): 32–39
 Focusing on works by the cartoonist Mike Asukwo, the author argues that Nigerian cartoonists use metaphors and symbols as a means of navigating the dangers of state repression whilst satirising politicians and commenting critically on salient political issues. Metaphors provide a "mask" behind which cartoonists speak truth to power, and which protects them from sanction. The author likens this to longstanding trajectories of satire in Nigeria, giving the examples of Gẹlẹdẹ masquerade and Okumpu Theatre Masks, in which masked performers are able to lampoon and satirise both elites and elite-driven narratives whilst enjoying social/spiritual protection and anonymity. Like masquerading, cartooning relies on public consumption, discourse and the negotiation of meaning amongst audiences. Dr. Ganiyu Jimoh conceptualises the cartoonists use of metaphor as a strategy of "deterritorialization" in which an audience is transported from their accustomed vantage point into a transgressive space in which politicians can be poked fun at from a place of relative safety. Mike Asukwo publishes his cartoons in the newspaper Business Day & on various social media platforms. The author is himself an accomplished cartoonist (Jimga) and secretary of the Cartoonists Association of Nigeria (CARTAN). 
Jimoh, Ganiyu A.  "Wetin you Carry? The Nigerian Police Force in Cartoonists' Space" In Taking African Cartoons Seriously: Politics, Satire and Culture, edited by Peter Limb and Tejumola Olaniyan, 17-32. East Lansing: Michigan State University Press, 2018.
A visual and social semiotic analysis of Nigerian cartoons depicting the Nigerian Police Force and its interactions with Nigerian citizens. The study of these cartoons allows one to gauge public perceptions of the police, which are characterized by distrust. Jimoh analyses 10 cartoons by 6 cartoonists. Some of the cartoonists included are well established whilst others are emerging talents, and their work is published across a range of platforms including newspapers, magazines, social media, websites, and human rights reports. Jimga's cartoons have even been printed on banners and used in protests staged by a university trade union. As well as analysing cartoons to explore popular views of the Nigerian Police Force, Jimoh's article includes contextual information about wider trends in Nigerian cartooning. For instance, Jimoh explains that Nigerian cartoonists increasingly publish their work online, utilising social media platforms and websites such as africacartoons.com. Online circulation allows cartoonists to reach broader audiences and evade editorial censorship in print media. This, coupled with rising rates of internet access in Nigeria, has broadened the popular appeal of cartoons amongst Nigerian publics. The cartoonists included in this article are Jimoh B. S. (Jimoh B. Samsideen), Basati (Mike Asukwo), Jimga, Don Marvey, Albert Ohams, Choba Oizona (Laobis Obilonu). The chapter lists Akinola Lasekan as Nigeria's first indigenous cartoonist. The author is himself an accomplished cartoonist (Jimga) and secretary of the Cartoonists Association of Nigeria (CARTAN). 
Kew, Darren and Chris M. A, Kwaja. "Civil Society in Nigeria," in The Oxford Handbook of Nigerian Politics, edited by A. Carl Levan and Patrick Ukata, 369-85. Oxford: Oxford University Press.
 An overview of the changing role and nature of civil society in Nigeria. Tracks the role civil society has played in democratization but also acknowledges its history of being co-opted by the state and its propensity to mirror the corruption and authoritarianism of particular regimes. The article is useful in its analysis of the role social media played in the APC's successful election campaign of 2015 and in coordinating and mobilizing the Occupy Nigeria movement of 2011. The authors offer a broad definition of civil society which encompasses any agent in the public arena who in some way mediates the porous relationship between the government and the individual. This would cover NGOS but also phenomena such as protest movements (e.g. occupy Nigeria) and social media communications. The authors acknowledge that the divide between individual/civil society/state is not fixed but is best thought of as a spectrum in which the disproportionate power of the state allows its discourses and practices to seep through and influence the behavior of civil society and individuals. Proposes the following periodization (1) precolonial (2) post-independence organizations which seek to positively guide state interventionism (e.g. trade unions) (3) the proliferation of NGOs from the 1980s onwards which sought to curtail the authoritarian excesses of the state and provide basic services and amenities which the state was failing to deliver (4) social media based civil society (2000s & 2010s) which have sought to transform relationship between the individual and the state by directly disseminating political information.
Limb, Peter. "Introduction: Drawing a Line between Play and Power in African Political Cartooning," in Taking African Cartoons Seriously: Politics, Satire and Culture, edited by Peter Limb and Tejumola Olaniyan, xiii-xlviii. East Lansing: Michigan State University Press, 2018.
 This illuminating introduction presents a broad history of cartooning n Africa whilst also evaluating contemporary and emerging trends. African edited newspapers first began to feature cartoons in the 1930s, although there are longstanding histories of satire and humourous political critique that long precede this. Gradually, cartoonists in Africa began to allude to and include local practices of satire in their cartoons, creating cartoons with a mix of local and global elements. Political cartooning has historically and continues to be a risky endeavour. Censorship, for example, is a perennial challenge, although it has taken different forms and has been enforced with greater or lesser intensity across different periods and places. Many cartoonists have responded by practicing self-censorship, or developing coded visual languages to sneak subversive ideas past oblivious censors, or to allow enough ambiguity for them to deny to authorities that the work is subversive at all. However, in a neo-liberal media environment, cartoonists are increasingly susceptible to editorial and political pressures, as well as commercial incentives, and have at times been persuaded to tow a political or corporate line. The introduction recognises the enormous impact of the internet on cartooning; for good and for bad. On the one hand, the internet has provided spaces where cartoonists can build enclaves, evade print media censorship and reach wider audiences. Of course, online spaces are also subject to increasingly sophisticated forms of censorship. Social media can amplify the approbation and abuse cartoonists receive from offended parties. Limb identifies the need for more research into the effect social media has had on the creation, dissemination and reception of cartoons. Digital cartoons circulating exclusively online are also ephemeral, and the work of less established cartoonists is at risk of being lost, or of simply passing unnoticed amidst the unrelenting onslaught of online content. The internet is not the only development to have revolutionised cartooning practice. The rise of new creative industries and cultural forms have also presented new opportunities for diversification. There has long been an overlapping relationship between cartooning and animation, both of which are effective mediums for political satire. Cartoonists growing use of digital art software (either at the stage of production, post-production, or both) has equipped them with the digital skills to transition into animation. They may switch between cartooning and animation at different points in their career, depending on opportunities. The growth of the middle class in many African countries has increased consumer demands for graphic novels and comics as well as Manga and superhero culture, both of which are increasingly popular. Superhero comics and Manga are often appropriated by African comic artists who mix local mythology and political concerns with these global cultural forms. Cartoonists also accept commissions from governments and civil society organisations to produce educational cartoons regarding social issues; this is often termed 'applied cartooning'. Reviewing existing literature on African cartooning, Limb argues that the attention scholars have paid to the contemporary political contexts framing cartoons has sometimes overshadowed long-term, generational influences and allusions. Moreover, the specifically visual qualities have at times been under-appreciated, with cartoons often treated more like texts than images.            
Miller, Jade L. Nollywood Central. London: Palgave, 2016.
Looks at the financing and governance of Nollywood, which argues that the informality of the Nigerian video industry has provided it with creative opportunities that has allowed it to thrive and exist independently of external funders. Most interesting is the role and power of the marketers whose control of funding and distribution means they exert a large amount of control over the type of films that are able to be made. Disputes between marketers are regulated internally through a guild system. It also has an interesting chapter on Iroko TV, an online streaming service which seeks to break the hold of the marketers over the industry and introduce international financing into film production.  
Obasi, Bright Wonder (dir.) If I Am President (2018) [feature length movie]
The fictional story of an insurgent political party, the Nigeria Rebirth Party, and their presidential candidate, Zinachi Ohans. They launch a campaign based on a message of anti-corruption, accountability, transparency and good governance, and seek to sensitize young voters to the importance of exercising the franchise and increase turn out. The political elite recognize the threat this new party poses and employs a series of dirty tricks, including attempts on Ohans' life, in order to derail the growth of the Nigeria Rebirth Party. The best character is the baddie, a political operator played by Bimbo Manuel, who, in a nod to House of Cards,  explains directly to camera the tricks corrupt politicians and parties employ to dupe the masses and sow division. The insurgent party are also shown harnessing the power of social media. The PVC (Permanent Voters Card) features in the film as a symbol democratic potential. The film had a cinematic release and has high production values.
Okediji, Moyo. Chapter Four, "Transgressive Pictures: Feminism, Pathology and Poverty" Western Frontiers of African Art (Rochester, University of Rochester Press, 2011), 66–102.
In this chapter Okediji presents a biographical portrait of Tinuomi Afilaka, a woman shrine painter at the Akire palace in Ile Ife, Nigeria who developed a distinctive style of Akire painting which addresses socio-political iniquities in the region and offers a sensory form of therapy to ease the hardships of life. After enduring a series of personal tragedies and ill health, Afilaka received messages from divinities commanding her to write them letters detailing the conditions of the temporal world and the hardships of the poor. The group of Akire painters, of which she was part, were sympathetic and granted Afilaka a section of wall on which she was allowed to depart from the established figurative style of the group. As a non-literate artists, Afikala was not familiar with an established script, and instead developed an idiosyncratic approach to painting consisting of shapes which resembles lettered calligraphy and which she describes as a system of writing communicated to her by divinities. Whereas the rest of the group of artists saw their painting as a form of praise and a visual means of furnishing deities with garments in exchange for spiritual protection, Afikala's practice directly addresses the same pantheon of deities (and in many cases specific deities) and presents them with an account of the unjust state of affairs in the world. At some point she also seems to have started painting on canvas. Of course, her script is not legible to anyone else, and this requires the mediation of the artist to explain their meanings. Okediji's analysis is based on interviews with the artist, and her explanations of the meanings of individual pieces, but at a certain point the artist received instructions from divinities to stop explaining the meanings of the paintings to him, as each individual needs to resolve the meaning of the paintings, and the difficulties of their own lives, based on their own reflection. The illegibility of the script opens up the works to a diversity of interpretations. It also frees the work from the burden of overdetermined political meanings, which, along with the visual qualities of the works, allows her paintings to function simultaneously as a form of visual pleasure, and as a comfort in a troubled world. Okedeji also presents a short biography of Etso Ugbodaga-Ngu, based on interviews he held with her between 1979-1982. She was the first Nigerian professor of art at the Ahmadu Bello University in Zaria and taught the "Zaria Rebels", but her role in the development of 20th century Nigerian has been overlooked owing to her gender. The chapter is framed around the argument that Nigerian artists have articulated feminist concerns which have developed independently of the theoretical frameworks of western feminism. They have also trod their own path by transgressing gender boundaries and expectations in defiance of local forms of patriarchal authority. See also: http://www.universityofafricanart.org/Image/Text/afilaka.pdf    
Olaniyan, Tejumola. "The Art of Bisi Ogunbadejo" In in Taking African Cartoons Seriously: Politics, Satire and Culture, edited by Peter Limb and Tejumola Olaniyan, 3-15. East Lansing: Michigan State University Press, 2018.
 A perceptive appraisal of the Nigerian cartoonists Bisi Ogunbadejo, whose cartoons appear in the newspaper, This Day. The author argues that Ogunbadejo's cartoons are distinguished by their exploratory rather than demonstrative approach, and a type of humour where the laughs are born of a recognition of deep-seated, structural truths about Nigerian politics. Ogunbadejo raises difficult questions or problems without providing facile solutions. Rather than lampooning specific individuals, Ogunbadejo more often than not chooses to highlight wider structural contradictions and injustices in Nigerian society. He lampoons behavioural trends common amongst particular classes of people and draws attention to the forces shaping such behaviours. His caustic wit also implicates the reader, pointing out widespread complicity in political misdemeanours whilst also inviting audiences to consider whether, in similar circumstances, they might act in the same way as the individuals that they hypocritically denounce. Indeed, Ogunbadejo forces one to question whether, done to the way politics, society and the economy are organised, it might often be rational to act in ways which might be described as 'corrupt'. Olaniyan is to be applauded for analysing the visuality of Ogunbadejo's cartoons, in particular his spare and minimalist use of line, which render his figures as generic characters rather than identifiable individuals; emphasising the broad sociological scope of his cartoons. Ogunbadejo's cartoons are also distinctive in their  use of horizontally stacked multi-panel cartoons that are read from top to bottom.      
Osiebe, Garhe . "In the trenches with Fela: Reassessing Protest Political Music Culture before the Fourth Republic" in The Oxford Handbook of Nigerian Politics, edited by A. Carl Levan and Patrick Ukata, 406–24. Oxford: Oxford University Press.
 A fascinating survey of political protest music produced after independence but pre-democratization (1960-1999), focusing on a range of musicians who have been somewhat overshadowed by the canonization of Fela Kuti. The author analyses the lyrics of various political protest musicians, who largely sang in pidgin in order to reach a broad Nigerian audience, and identifies common themes. These include critiques of bad leadership, political corruption and hypocrisy; the politics of divide and rule; representations of the plight of the poor and their daily struggles; calls for unity and renewal at a national and pan-African level; and analysis which frames Nigerian independence as constituting an unfinished revolution. Many of these artists' were influenced by reggae, elements of which are inflected in their music and pan-Africanism, others work across genres including Highlife, Afrocalypso and Afrobeat. The author looks at the period spanning from the 1970s to 1990s. The author also looks at the re-circulation of a 1996 song by Ambassador Osayomore Joseph (Baba Na Wah!) in 2010 on YouTube, to highlight the dangerous prospect of Babangida standing for president in the 2011 election; using captions and images to reanimate the song, which is an excoriating attack on Babaginda, and relate it to political situation in 2010/2011.  The author relates some of the musician's lyrics to Fanon's observations on postcolonial Africa. In particular, the author argues that idea that African countries which saw a negotiated transition to independence only experience cosmetic changes to underlying political structures and consciousness; independence saw the swapping of a colonial elite for an African elite who are still beholden to western imperialism. Only violence can lead to true independence, and in the absence of a violent transition, violence will continue to be visited upon the people in a neo-colonial political dispensation. The musicians he looks at include: Sonny Okosuns, Tunji Oyelana and Wole Soyinka, Victor Essiet and the Mandators, Majek Fashek, Ras Kimono, Lagbaja, Osayomore Joseph and Femi Kuti.     
Oyedele, Obasanjo Joseph. "Popular Fuji Musicians as Political Marketers in Nigerian Elections" Muziki 15, no.1 (2018): 89–108.
 Oyedele argues that for the majority of the post-independence period musicians have taken on the mantle of lambasting corruption, promoting national unity and expressing pan-African sentiments. However, in recent decades popular musicians have instead acted as marketers for hire, writing songs in praise of politicians and performing at election campaign rallies in order to draw crowds. Whilst this feels like a crude generalization, the article is an interesting read. It analyses the lyrics of two political praise songs by Fuji musicians (King Wassiu Ayinde Marshall KWAM1) and Abass Akande Obesere. These songs sow division, smear opponents and celebrate the development, amenities and services the candidates will bring (or have already delivered) to a particular region. The analysis of the lyrics thus corresponds to Joesph's concept of prebendalism. There is little engagement with wider political issues and systemic problems in Nigeria, the lyrics instead emphasize the candidate's qualities as a political patron who can channel state resources. Fuji music is form of dance music popular in South West Nigeria, its lyrics are commonly in Yoruba and it features inticate percussive elements. 
Pratten, David. "The Precariousness of Prebendalism" in Democracy and Prebendalism in Nigeria: Critical Interpretations, edited by W. Adebanwi, Larry Diamond, and E. Obadare , 243–58. Palgrave Macmillan, 2013.
 A fascinating article which highlights a neglected aspect of Joseph's theory of prebendalism; namely, the insecurity which encourages and sustains prebendalism. Looks at the creative and productive tactics, born of insecurity, that 'clients' use to shape patronage networks at a local level. Pratten conceptualizes insecurity as productive rather than paralyzing – insecurity produces new conceptions of risk and new horizontal social networks, as well as shaping patronage relationships and holding patrons accountable. Insecurity can force people to become clients and hired muscle but they also use tactics of petitions, impeachment and kidnapping to place limits on the impunity of 'big men'. Around Christmastime politicians return "home" and are expected to redistribute resources in order to reward loyalty and the services of youth in securing their election. Personalised redistribution is often organized through public "thanksgiving" events. Post-1999 oil revenue has increasingly been distributed at state governor level, which has caused a growth in violence as a means of extracting patronage from 'big men' and limiting their impunity.    
Ryan, Connor. "New Nollywood: A Sketch of Nollywood's Metropolitan New Style," African Studies Review 58, no. 3 (December 2015): 55–76.
Ryan argues that New Nollywood is distinguished from mainstream Nigerian video production by its higher budgets, a distribution model based on theatrical release at multiplex cinemas, its emphasis on higher production values and aesthetic sophistication, and its conflation of metropolitan life with consumerist luxury. Ryan argues that New Nollywood is an expression of neoliberalism in that it creates and lionises consumerist desire despite a societal context of increasing inequality and instability. Mainstream Nollywood video production is in fact much more in touch with the everyday struggles of most Nigerians; New Nollywood, in contrast, elides these struggles and shows their characters easily attaining wealth, luxury and global mobility, oblivious to the material scarcity which characterises life for many in Nigeria. Cinema-going offers an affective experience of consumerist leisure, in that multiplex cinemas where new Nollywood films are screen are invariably in malls where people spend the day shopping and eating and encountering a range of projected digital images. Consumerism is also embedded in the content of the films, which often feature air travel (the ultimate symbol of easy mobility), technological connectivity, consumerist luxury and global pop culture. New Nollywood films, despite being presented as successful, often operate at a loss, owing to taxes, cinema fees and distribution fees. In order to overcome these hurdles, production companies subsidize new Nollywood ventures with the profits from less risky productions, as well as try to attract corporate sponsorship and stage premiere red carpet events at which they sell advertising space. Directors also promote upcoming films by working on music videos and creating "making of" videos to showcase their technical expertise and equipment. This helps "establish their brand" and garner interest in their upcoming productions. Movie-going and the movies themselves promises a cosmopolitan experience of consumerism. The bigger budgets allow more time for films to be made and allow more time to be invested in finding locations. Many New Nollywood productions use sound stages rather than filming in homes and compounds. They often don't distribute through market traders, partly as they fear losing profits via piracy. Much is made of the aesthetic sophistication of Nollywood, whereby, in a departure from established video practices, the image itself provides value, rather than the image just containing or depicting topics, objects and characters of value.
Smith, Daniel Jordan. "Progress and Setbacks in Nigeria's Anticolonial Efforts," in The Oxford Handbook of Nigerian Politics, edited by A. Carl Levan and Patrick Ukata, 287–300. Oxford: Oxford University Press.
An overview of anticorruption efforts in post-independence Nigeria, in particular the post-1999 years, and a useful reflection on popular, local understandings of corruption. Anticorruption initiatives are political strategies and changes of regime in the post-independence era have always been accompanied by much heralded drives to root out corruption. Although corruption occurs across the world, ordinary Nigerians are very conscious of corruption and it is perceived as a "national malady", for which both political leaders and ordinary citizens are responsible for. Smith offers a good critique of fixed, technical definitions and typologies of corruption, arguing that popular judgements as to what constitutes corruption are highly contextual in Nigeria. Typologies can be useful in capturing the range and multifaceted nature of corruption but fixed models ignore overlap and change. Specific contexts will determine whether citizens will either denounce, tolerate or reward certain acts of corruption. Looks in particular detail at the early years of the Economic and Financial Crimes Committee (EFCC) established under Obasanjo's presidency (1999-2007), headed by Nuhu Ribadu. This body initially enjoyed success and made genuine strides due to the determination of Ribadu, the support of Obasanjo, Civil Society, the media and, initially, positive popular opinion. In time, however, it came to be seen as a political weapon wielded by Obasanjo, himself corrupt, in order to selectively pursue corruption charges against political rivals. Under Yar'Adua its power was checked. Smith identifies two major obstacles to rooting out corruption (1) the political elite are deeply invested in the status quo and go to great lengths to protect it (2) although ordinary people hold genuine anti-corruption convictions, they are themselves complicit in the social reproduction of corruption in everyday life. In an environment of scarcity, people participate in and demand the functioning of patron-client relationships in order to access resources and basic services; cultures of corruption are thus reproduced out of necessity, even though people may recognize it is not in their long-term interests. Recent anticorruption initiatives have been advanced by civil society, the media, multi-national corporations, and popular drives to root out corruption.
Soyinka, Wole. Aké: The Years of Childhood. Ibadan: Bookcraft, 2014 [1981]
 An evocative memoir of Soyinka's (b.1934) early childhood in Abeokuta. In lyrical prose, Soyinka wonderfully captures a child's eye view of the world. The memoir contains some fascinating memories of how wider political events were interpreted in local cultural forms. For example, during the second world war, a popular expression and greeting, 'Win-the-War', was translated into new hair styles by barbers and added to women's hairstyles: "The women [...] added Win-de-woh to their hair-plaits" (p.152).  Indeed, Soyinka's sensory impressions of encountering local creative practices and artforms are woven into his reminiscences. For example, there are references to Egúngún masquerade (p.43‒48), local photographers and the conventions of family portraiture (p.53 & p.225‒6), juju-band musicians (p.208), gardening (p.97), popular music (p.151) magicians (p.209‒10), textiles and food. Soyinka also offers a fairly derisive assessment of popular culture around the time that the book was written (p.208‒19). Another key thread in the book is the author's dawning political consciousness and his memories of his mother's involvement in Women's Uprising in Egbaland.
Watts, Michael J. "Ecologies of Rule: Politics, Political Economy, and Governing the Environment in Nigeria," In The Oxford Handbook of Nigerian Politics, edited by A. Carl Levine and Patrick Ukata, 133-168 (Oxford, Oxford University Press, 2018)
Contains a useful, if broad, historical overview of environmental management in Nigeria. This is not comprehensive, but presents a long dureé historical account to give context to contemporary discussions of environmental issues. The chapter is underpinned by the argument that the ordering of the postcolonial state has been greatly shaped by the reliance of the political economy on oil revenue. Oil wealth has fostered the growth of a politics organised around access to revenue and the ability to distribute that revenue across networks of political patronage in order to secure support. This is mirrored in the uneven development of the state's capabilities to manage the environment. Environmental laws are strong in some areas, weak and informal in others, and occasionally contradictory at state and federal levels . Where legislation exists, enforcement is often hampered. Summary of historical overview: Watts acknowledges the long pre-colonial history of conservationist thought and sophisticated environmental management techniques. During the colonial period, the colonial administration drew on indiginous knowledge of environments and localised agricultural methods and technologies, via anthropologists. The colonial period also sees the rise of 'scientific forestry' from the 1920s onwards which introduces an element of central state control alongside customary tenure. The oil boom, starting in the late 1950s, led to extensive extraction and environmental degradation. Oil companies have had a shameful record in despoiling the environment and propping up military dictatorships. The oil boom also led to a growth in construction and industrial growth, which in turn lead to unplanned mass urbanisation, which has led to environmental and sanitation problems in megacities. From 1981 Structural Adjustment policies imposed by the state led to a retrenchment of the state, weakening the government's capacity to respond to environmental cries such as the illegal timber trade which is fuelling deforestation (with the involvement of foreign companies complicit in corrupt felling practices). Currently, there is a focus on building "resilient communities" which can withstand the insecurity caused by ongoing environmental and climate crises.