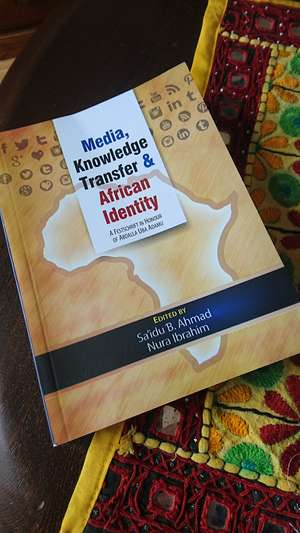 This post is a work in progress and changing throughout the project. We are keen to hear from Nigerian scholars and artists with suggestions that we can add to this list. 
On Politics and Art in Nigeria
Ganiyu A. Jimoh, "Masked in Metaphors: Counter Narratives in the works of Nigerian Cartoonist Mike Asukwo" African Arts 52, no. 2 (Summer 2019): 32–39
Focusing on works by the cartoonist Mike Asukwo, the author argues that Nigerian cartoonists use metaphors and symbols as a means of navigating the dangers of state repression and whilst satirising politicians and commenting critically on salient political issues. Metaphors provide a "mask" behind which cartoonists speak truth to power whilst occupying a space that protects them from sanction. The author likens this to longstanding trajectories of satire in Nigeria, giving the examples of Gẹlẹdẹ masquerade and Okumpu Theatre Masks, in which masked performers are able to lampoon and satirise both elites and elite-driven narratives whilst enjoying social/spiritual protection and anonymity. Like masquerading, cartooning relies on public consumption, discourse and the negotiation of meaning amongst audiences. Dr. Ganiyu Jimoh conceptualises the cartoonists use of metaphor as a strategy of "deterritorialization" in which an audience is transported from their accustomed vantage point into a transgressive space in which politicians can be poked fun at. Mike Asukwo publishes his cartoons in the newspaper Business Day & on various social media platforms. The author is himself an accomplished cartoonist (Jimga) and secretary of the Cartoonists Association of Nigeria (CARTAN).  
Chinua Achebe, There Was a Country: A Personal History of Biafra (London: Penguin, 2012)
A mixture between a memoir and a history of the Nigerian Civil War, told from the perspective of the author's personal involvement in the Biafran state project. Contains some reflections on mbari shrines (p18 + 56); the practice in Eastern parts of Nigeria of building elaborately decorated buildings containing large numbers of sculptures representing elements of the spiritual and social world. Achebe characterises mbari as "art engaged in the process and celebration of life"; an artform which is intrinsically tied to the life of a community. Moreover, it is an artform which inherently recognises and incorporates the constancy of change in social life. He uses mbari as a metaphor for the role of the writer in society; stressing the need for writers to engage with and reflect the society of which they are a part. Achebe also argues that literature in Nigeria is always political: "I believe it is impossible to write anything in Africa without some form of commitment, some kind of message, some kind of protest. In my definition, I am a protest writer, with restraint. Even those early novels that look like very gentle recreations of the past—what they were saying, in effect, was that we had a past. That was the protest, because there were people who thought we didn't have a past. What I was doing was to say politely that we did—here it is." (58). He cites H.M. Cole's Mbari: Art and Life among the Owerri Igbo (Bloomington: Indiana University Press, 1982) on mbari. See also Achebe's comments on art and change in igbo-speaking areas (59). To read: How the Leopard got its Claws.           
Garhe Osiebe, "In the trenches with Fela: Reassessing Protest Political Music Culture before the Fourth Republic" in The Oxford Handbook of Nigerian Politics, edited by A. Carl Levan and Patrick Ukata, 406–24. Oxford: Oxford University Press. 
 A fascinating survey of political protest music produced after independence but pre-democratization (1960-1999), focusing on a range of musicians who have been somewhat overshadowed by the canonization of Fela Kuti. The author analyses the lyrics of various political protest musicians, who largely sang in pidgin in order to reach a broad Nigerian audience, and identifies common themes. These include critiques of bad leadership, political corruption and hypocrisy; the politics of divide and rule; representations of the plight of the poor and their daily struggles; calls for unity and renewal at a national and pan-African level; and analysis which frames Nigerian independence as constituting an unfinished revolution. Many of these artists' were influenced by reggae, elements of which are inflected in their music and pan-Africanism, others work across genres including Highlife, Afrocalypso and Afrobeat. The author looks at the period spanning from the 1970s to 1990s. The author also looks at the re-circulation of a 1996 song by Ambassador Osayomore Joseph (Baba Na Wah!) in 2010 on YouTube, to highlight the dangerous prospect of Babaganda standing for president in the 2011 election; using captions and images to re-animate the song, which is an excoriating attack on Babaginda, and relate it to political situation in 2010/2011.  The author relates some of the musician's lyrics to Fanon's observations on postcolonial Africa. In particular, the author argues that idea that African countries which saw a negotiated transition to independence only experience cosmetic changes to underlying political structures and consciousness; independence saw the swapping of a colonial elite for an African elite who are still beholden to western imperialism. Only violence can lead to true independence, and in the absence of a violent transition, violence will continue to be visited upon the people in a neo-colonial political dispensation. The musicians he looks at include: Sonny Okosuns, Tunji Oyelana and Wole Soyinka, Victor Essiet and the Mandators, Majek Fashek, Ras Kimono, Lagbaja, Osayomore Joseph and Femi Kuti.      
Obasanjo Joseph Oyedele, "Popular Fuji Musicians as Political Marketers in Nigerian Elections" Muziki 15, no.1 (2018): 89–108.
Oyedele argues that for the majority of the post-independence period musicians have taken on the mantle of lambasting corruption, promoting national unity and expressing pan-African sentiments. However, in recent decades popular musicians have instead acted as marketers for hire, writing songs in praise of politicians and performing at election campaign rallies in order to draw crowds. Whilst this feels like a crude generalization, the article is an interesting read. It analyses the lyrics of two political praise songs by Fuji musicians (King Wassiu Ayinde Marshall KWAM1) and Abass Akande Obesere. These songs sow division, smear opponents and celebrate the development, amenities and services the candidates will bring (or have already delivered) to a particular region. The analysis of the lyrics thus corresponds to Joesph's concept of prebendalism. There is little engagement with wider political issues and systemic problems in Nigeria, the lyrics instead emphasize the candidate's qualities as a political patron who can channel state resources. Fuji music is form of dance music popular in South West Nigeria, its lyrics are commonly in Yoruba and it features inticate percussive elements.  
Blaise Gundu Gbaden and Emmanuel Ikemefula Irokanulo, "Images of Power in Contemporary Nigerian Paintings" Mgbakoigba, Journal of African Studies 5, no. 1 (December 2015): 1-12
This article looks at five artists whose work examines notions of power in contemporary Nigeria. Chicke Obeagu uses mixed media collages to look at patriarchal predatory power, transactional sex in universities, and elite-level competition and corruption. Dhlimi Munza is a Lagos based artist who romanticizes the figure on horseback as a symbol of legitimate authority and regional power, as does Abiodun Olaku (b.1958). Blaise Gundu Gbaden (b.1966) installations engage with corruption. Emmanuel Ikemefula Irokanulo (b.1968) uses shadows as a means of commenting on the fluidity of power, as well as the widespread experience of displacement in contemporary Nigeria. 
Nollywood
Connor Ryan, "New Nollywood: A Sketch of Nollywood's Metropolitan New Style," African Studies Review 58, no. 3 (December 2015): 55–76. 
Ryan argues that New Nollywood is distinguished from mainstream Nigerian video production by its higher budgets, a distribution model based on theatrical release at multiplex cinemas, its emphasis on higher production values and aesthetic sophistication, and its conflation of metropolitan life with consumerist luxury. Ryan argues that New Nollywood is an expression of neoliberalism in that it creates and lionises consumerist desire despite a societal context of increasing inequality and instability. Mainstream Nollywood video production is in fact much more in touch with the everyday struggles of most Nigerians; New Nollywood, in contrast, elides these struggles and shows their characters easily attaining wealth, luxury and global mobility, oblivious to the material scarcity which characterises life for many in Nigeria. Cinema-going offers an affective experience of consumerist leisure, in that multiplex cinemas where new Nollywood films are screen are invariably in malls where people spend the day shopping and eating and encountering a range of projected digital images. Consumerism is also embedded in the content of the films, which often feature air travel (the ultimate symbol of easy mobility), technological connectivity, consumerist luxury and global pop culture. New Nollywood films, despite being presented as successful, often operate at a loss, owing to taxes, cinema fees and distribution fees. In order to overcome these hurdles, production companies subsidize new Nollywood ventures with the profits from less risky productions, as well as try to attract corporate sponsorship and stage premiere red carpet events at which they sell advertising space. Directors also promote upcoming films by working on music videos and creating "making of" videos to showcase their technical expertise and equipment. This helps "establish their brand" and garner interest in their upcoming productions. Movie-going and the movies themselves promises a cosmopolitan experience of consumerism. The bigger budgets allow more time for films to be made and allow more time to be invested in finding locations. Many New Nollywood productions use sound stages rather than filming in homes and compounds. They often don't distribute through market traders, partly as they fear losing profits via piracy. Much is made of the aesthetic sophistication of Nollywood, whereby, in a departure from established video practices, the image itself provides value, rather than the image just containing or depicting topics, objects and characters of value.
Jade L. Miller, Nollywood Central. London: Palgave, 2016. 
Looks at the financing and governance of Nollywood, which argues that the informality of the Nigerian video industry has provided it with creative opportunities that has allowed it to thrive and exist independently of external funders. Most interesting is the role and power of the Marketers whose control of funding and distribution means they exert a large amount of control over the type of films that are able to be made. Disputes between marketers are regulated internally through a guild system. It also has an interesting chapter on Iroko TV, an online streaming service which seeks to break the hold of the marketers over the industry and introduce international financing into film production.  
If I Am President (2018) feature length movie directed by Bright Wonder Obasi
The fictional story of an insurgent political party, the Nigeria Rebirth Party, and their presidential candidate, Zinachi Ohans. They launch a campaign based on a message of anti-corruption, accountability, transparency and good governance, and seek to sensitize young voters to the importance of exercising the franchise and increase turn out. The political elite recognize the threat this new party poses and employs a series of dirty tricks, including attempts on Ohans' life, in order to derail the growth of the Nigeria Rebirth Party. The best character is the baddie, a political operator played by Bimbo Manuel, who, in a nod to House of Cards,  explains directly to camera the tricks corrupt politicians and parties employ to dupe the masses and sow division. The insurgent party are also shown harnessing the power of social media. The PVC (Permanent Voters Card) features in the film as a symbol democratic potential. The film had a cinematic release and has high production values. 
Nigerian Politics
Daniel Jordan Smith, "Progress and Setbacks in Nigeria's Anticolonial Efforts," in The Oxford Handbook of Nigerian Politics, edited by A. Carl Levan and Patrick Ukata, 287–300. Oxford: Oxford University Press. 
An overview of anticorruption efforts in post-independence Nigeria, in particular the post-1999 years, and a useful reflection on popular, local understandings of corruption. Anticorruption initiatives are political strategies and changes of regime in the post-independence era have always been accompanied by much heralded drives to root out corruption. Although corruption occurs across the world, ordinary Nigerians are very conscious of corruption and it is perceived as a "national malady", for which both political leaders and ordinary citizens are responsible for. Smith offers a good critique of fixed, technical definitions and typologies of corruption, arguing that popular judgements as to what constitutes corruption are highly contextual in Nigeria. Typologies can be useful in capturing the range and multifaceted nature of corruption but fixed models ignore overlap and change. Specific contexts will determine whether citizens will either denounce, tolerate or reward certain acts of corruption. Looks in particular detail at the early years of the Economic and Financial Crimes Committee (EFCC) established under Obasanjo's presidency (1999-2007), headed by Nuhu Ribadu. This body initially enjoyed success and made genuine strides due to the determination of Ribadu, the support of Obasanjo, Civil Society, the media and, initially, positive popular opinion. In time, however, it came to be seen as a political weapon wielded by Obasanjo, himself corrupt, in order to selectively pursue corruption charges against political rivals. Under Yar'Adua its power was checked. Smith identifies two major obstacles to rooting out corruption (1) the political elite are deeply invested in the status quo and go to great lengths to protect it (2) although ordinary people hold genuine anti-corruption convictions, they are themselves complicit in the social reproduction of corruption in everyday life. In an environment of scarcity, people participate in and demand the functioning of patron-client relationships in order to access resources and basic services; cultures of corruption are thus reproduced out of necessity, even though people may recognize it is not in their long-term interests. Recent anticorruption initiative shave been advanced by civil society, the media, multi-national corporations, and popular drives to root out corruption. 
Darren Kew and Chris M. A, Kwaja, "Civil Society in Nigeria," in The Oxford Handbook of Nigerian Politics, edited by A. Carl Levan and Patrick Ukata, 369-85. Oxford: Oxford University Press.
An overview of the changing role and nature of civil society in Nigeria. Tracks the role civil society has played in democratization but also acknowledges its history of being co-opted by the state and its propensity to mirror the corruption and authoritarianism of particular regimes. The article is useful in its analysis of the role social media played in the APC's successful election campaign of 2015 and in coordinating and mobilizing the Occupy Nigeria movement of 2011. The authors offer a broad definition of civil society which encompasses any agent in the public arena who in some way mediates the porous relationship between the government and the individual. This would cover NGOS but also phenomena such as protest movements (e.g. occupy Nigeria) and social media communications. The authors acknowledge that the divide between individual/civil society/state is not fixed but is best thought of as a spectrum in which the disproportionate power of the state allows its discourses and practices to seep through and influence the behavior of civil society and individuals. Proposes the following periodization (1) precolonial (2) post-independence organizations which seek to positively guide state interventionism (e.g. trade unions) (3) the proliferation of NGOs from the 1980s onwards which sought to curtail the authoritarian excesses of the state and provide basic services and amenities which the state was failing to deliver (4) social media based civil society (2000s & 2010s) which have sought to transform relationship between the individual and the state by directly disseminating political information. 
David Pratten, "The Precariousness of Prebendalism" in Democracy and Prebendalism in Nigeria: Critical Interpretations, edited by W. Adebanwi, Larry Diamond, and E. Obadare , 243–58. Palgrave Macmillan, 2013. 
A fascinating article which highlights a neglected aspect of Joseph's theory of prebendalism; namely, the insecurity which encourages and sustains prebendalism. Looks at the creative and productive tactics, born of insecurity, that 'clients' use to shape patronage networks at a local level. Pratten conceptualizes insecurity as productive rather than paralyzing – insecurity produces new conceptions of risk and new horizontal social networks, as well as shaping patronage relationships and holding patrons accountable. Insecurity can force people to become clients and hired muscle but they also use tactics of petitions, impeachment and kidnapping to place limits on the impunity of 'big men'. Around Christmastime politicians return "home" and are expected to redistribute resources in order to reward loyalty and the services of youth in securing their election. Personalised redistribution is often organized through public "thanksgiving" events. Post-1999 oil revenue has increasingly been distributed at state governor level, which has caused a growth in violence as a means of extracting patronage from 'big men' and limiting their impunity.     
Digital Voices 
Deborah N. Dike, "Countering Political Narratives through Nairaland Meme Pictures" Cahiers D'étude Africaines 230 (2018): 493–512
Excellent article showing how political claims of Buhari's APC and Jonathan's PDP in the 2015 election were critiqued and disputed using memes posted on the popular forum Nairaland. Memes satirized both parties claims to represent a new approach to politics and a break with the corrupt practices of the past. Memes were used by users of Nairaland to transmit and transform discourses on a visual plane, combining visual literacy creativity and textual wit to negotiate competing political claims and act as a form of political rhetoric. 
George Emeka Agbo, "The Struggle Complex: Facebook, Visual Critique and the tussle for Political Power in Nigeria" Cariers D'étude Africaines 230 (2018): 469-89
The production, manipulation and circulation of digital photographs on social media is a means for engaged and active citizens to critique and expose elite-driven power struggles and comment on the shortcomings of democratic rule. Agbo presents a case study of photographs and memes that were circulated on facebook by citizens who were satirizing and decrying a 2019 incident whereby the PDP locked members of the APC out of parliament. Agbo also examines facebook comments on these images as representative of the ongoing negotiation of the photographs meaning. Employs Ariella Azoulay's notion that state institutions aren't the only actors who can use photography to wield power. On the contrary, Agbo argues that the production and circulation of digital photos on facebook is a means by which ordinary Nigerians can flex their muscles as empowered citizens.  
Literature 
Cyprian Ekwensi, Jagua Nana. Penguin, 2018 [1961]. 
A classic novel centred on the exploits of Jagua Nana, a woman enjoying a hedonistic life in early 1960s Lagos. In the second half of the novel, Jagua becomes involved with a politician, Uncle Taiwo, who schools her in the cynical arts of politics and electioneering in Nigeria, and invites her along on the campaign trail for his party, Other Party One (OP1). Jagua's former lover, Freddie, is contesting the same seat under the rubric of a rival party Other Party Two (OP2). Freddie explains his motives: "I want' money quick quick; and politics is the only hope." Both Freddie and Uncle Taiwo are killed in election-related political violence.