In a Pot of Hot Soup: Brunei Gallery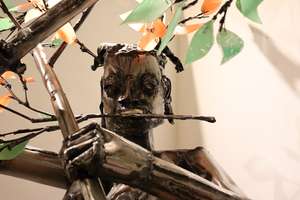 The exhibition In a Pot of Hot Soup at the Brunei Gallery, Russell Square opened on the 6th of April, 2022. 'In A Pot of Hot Soup' at Brunei Gallery and Atrium Gallery, is the first to focus on political articulations by contemporary Nigerian artists in the UK, with themes of the environment, identity and struggles of everyday life, and accompanied by a catalogue, artist talks and an online exhibition.
The exhibition presents key Nigerian contemporary artists from a spectrum of media and practice, including painters, sculptors, photographers, cartoonists, animators, video and mixed-media artists. This project began in 2019 coinciding with the presidential elections that year. It led to conversations with artists in Nigeria about art and politics that formed the basis of this exhibition.
The exhibition is organised around four key themes, although many more could have been chosen, to underscore how artists respond to the challenges and issues that shape social environments in Nigeria. These are: The Struggles of Everyday Life; Gendering of Art;  Envisioning the Environment; and The Art of Politics
The exhibition will run till September 2022.