Gender and Politics Exhibition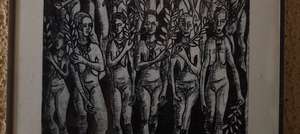 The ArtoP Team are pleased to showcase the student submissions to our call for our online exhibition on Gender and Politics. Nigerian higher education art students from different institutions have created a range of work using diverse media from painting, ink drawings, digital illustrations and even animation to respond to the themes of gender as they understand
Ufere Francis Ude is a Nigerian digital artist and animator based in Lagos, Nigeria. His work explores: fantasy, identity, imagination and hope. He is best known for his exaggerated use of lighting, character designs and animations shorts which reflects fragments of his experience, environment and music. He was born in Lagos, Nigeria on the 8th of June, 1998 and currently study Visual art in the university of Lagos (UNILAG), Nigeria. Francis participated in the "Genesis student art exhibition" in 2019 at the Lagoon gallery, creative Art department, University of Lagos.He considers his works to speak and be interpreted by viewers. His passion for animation makes him breathe life into his drawings.
Francis Ude was the winner of our competition as his 31 second line drawn animation fluidly carries the viewer through the ages by looking Nigerian women at the challenges that women face in particular as they face the patriarchy. In his own words Francis Ude states,


African culture and many other societies and tradition are rooted in patriarchy, therefore, women do not enjoy equal rights and privileges as men especially when it comes leadership and politics. Infact, it is nigh impossible for an African woman to rule.
My storyline projects the cycle of a woman's life, from conception to adulthood. Every woman equally has "a dream and destiny" just like every man does, this dream is depicted by a shining light, hanging above the head of an infant female child, she stretches her hand to grab the light and we see her transition into adulthood. Still holding on to her dreams of; leadership, greatness and authority, we see the young lady inspired by the strength and courage of great women in history like "Queen Amina of Zaria", who bravely lead her warriors to war regardless of her gender.
Now we see this woman at the peak of achieving her dreams of leadership, but her hands are held back by men standing beside her, this symbolizes the existing Patriarchal tradition and oppression today. She is saddened and heart broken as her dreams are shattered before her very eyes.
Then the next transition reveals "Aisha Yesufu", a symbol of hope. She is a socio-politcal activist, and co-convener of the Bring Back Our Girls Movement, an advocacy group that brings attention to the abduction of over 200 girls, from a secondary school in Chibok, Nigeria, on 14 April 2014, by the terrorist group Boko Haram. Aisha was also a front liner during the #endsars protest against the human rights violations of Young Nigerians, she continues to make great impart in the Nigerian society. This is a symbol of hope for the Nigerian women and inspiration to many youths to chase their dreams.
Obviously, for decades now, due to the Patriarchal ideology, politics has not been a fair game for the feminine gender. This is why we have lesser women in politics today but despite the odds, our women continue to bring positive change to the society regardless.
My hope is that this piece helps combat the patriarchal system in our society and help inspire the girl child that YES..... She can be the next president of our country.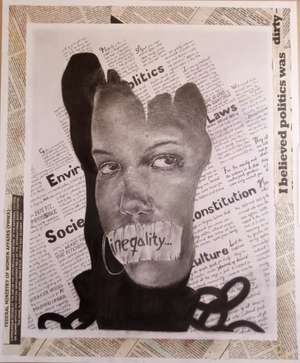 Kayode, Oluwapelumi Joseph was born on 7th September 1999. He had his primary education at FUTA Staff Nursery and Primary School Akure, his secondary school education was at St. Thomas Aquinas College, Akure both in Ondo State, Nigeria. He is presently a First year Student in Fine and Applied Arts Department, University of Nigeria Nsukka, Enugu State. His love for art was validated when he emerged as the best pupil in his primary school. He consolidated this in his secondary school when he alongside his cohort won a cash prize for a logo design with the theme: " Violence Against Children ". He participated twice in a National Art Competition organized by the Nigeria Television Authority (NTA). He sees art as a privilege that enables him to reach and impart the world with a talent he is blessed with.
Joesph's mixed media submission was a runner-up in the competition, his piece "Inequality" is a mixed media drawing of the facial format of a female figure with a coverage, written, 'Inequality' taped to her mouth region, all inscribed in a silhouette of a crossed leg in chains. All of these are overlapping the diagonally arranged handwritings with the sub - line headings seen as: 'Environment', 'Society', 'Politics', 'Law' 'Constitution' and 'Culture'. In his own words Joseph Kayode talks about his response to the call..

Power, as a political control over a specific territory is popularly associated with male figures - this is majorly because of the acceptability of the fact that systematic differences arises between men and women, particularly vis-a-vis vulnerabilities and capabilities... The downplaying of a woman's ability, will and strength in any aspect of the societal affairs should be outraged for the continuation of this will prevent our females to have a perfect leverage into the dynamism of materialising the greatness of which they are. Ignoring this remain the shackles in the female gender's feet and the gag in their mouth - 'Inequality', which answers why they can't run (progress - exercise power) as they ought to.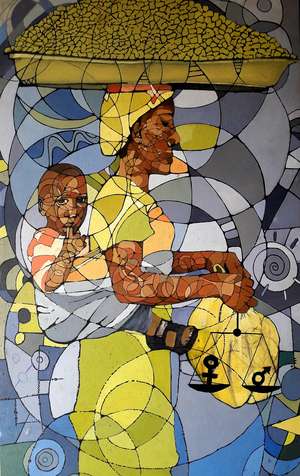 Ola Davies was born in Lagos State Nigeria, having grown up on the busy streets of Lagos his passions for the human faces grew tremendously. Ola has always been fascinated by images and how nature is being represented. Ola began painting as a means of expression. He eventually developed a unique style of painting that denotes his form of expression. He uses his work to speak about the beauty of African culture and the challenges of living in Nigeria. He has done one solo exhibition and has participated in several group exhibitions and was a part of the City of Beautification Project in Lagos State.
His oil-painting depicted above was selected as joint runner-up, and highlights the importance of the mother in Nigerian culture, here depicted simultaneously as provider, carer, and symbol of justice.