Diary of Discourse I - VI: Jelili Atiku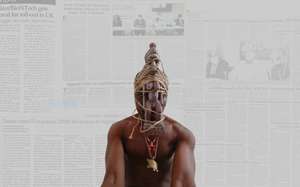 Performance artist Jelili Atiku has been working with ArtoP team to create a series of daily performances as responses to the media in Nigeria. Jelili Atiku is a Nigerian multimedia artist with political concerns for human rights and justice. Through drawing, installation sculpture, photography, video and performance (live art); he strives to help viewers understand the world and expand their understanding and experiences, so that they can activate and renew their lives and environments.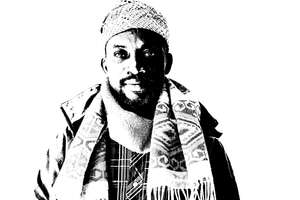 For over a decade, Jelili has put his art at service of the prevailing concerns of our times; especially those that threaten our collective existence and the sustenance of our universe. The contents of these concerns ranging from psychosocial and emotional effects of the traumatic events such violence, war, poverty, corruption, climate change and others that are associated with our warring world have dominated his artistic forms.

Born on Friday 27th September 1968 in Ejigbo (Lagos), Nigeria, Jelili was trained at Ahmadu Bello University, Zaria, Nigeria and University of Lagos, Nigeria – Where he was awarded Bachelor of Arts (Fine Arts) and Master of Arts (Visual Arts) respectively. He is presently the artistic Director of AFiRIperFOMA – a collective of performance artists in Africa; and Chief Coordinator of Advocate for Human Rights Through Art (AHRA). Jelili has travelled widely and participated in numerous performances/exhibitions/talks in Africa, Asia, Europe and America. He is 2015 Prince Claus Laureates and was wrongly accused, arrested, detained in prison and trialled on the instance of his performance in public space in 2016. He was artist in residence/assistant professor at the Department of Africana Studies/Brown Arts Initiative in Brown University, Providence, USA in 2018. He is the President of Ejigbo Indigenes Forum (EIF) and Chairman of the Community Development Committee. Ejigbo LCDA.
The first day of the performance of his Diary of Discourse Jelili references page 22 of the Nation Newspaper (December 1, 2020): "Post COVID-19: Effective leadership critical to build trust, says Gadzama" by Moses Emorinken. The title of the performance is Lemme Know When You Know.
On Day 2 of Diary of Discourse, Jelili responds to the article "17 corps members of the National Youth Service Corp test positive for COVID-19 in Abia" by Sunday Nwakanma on page 8 of The Punch Newspaper (December 2, 2020).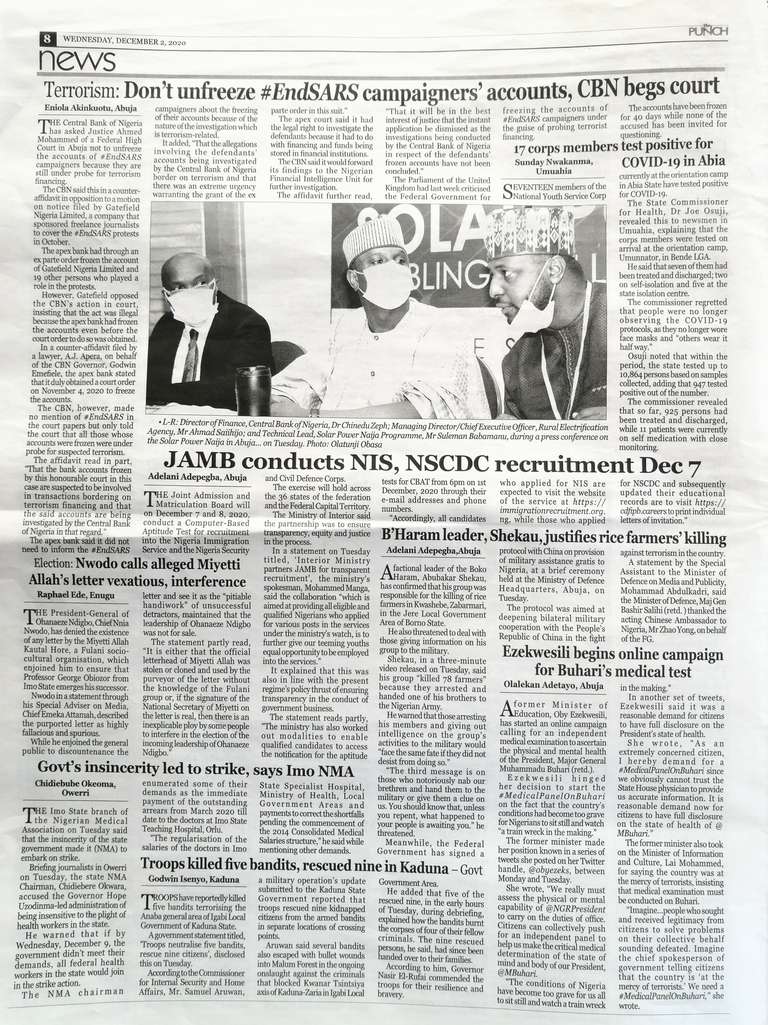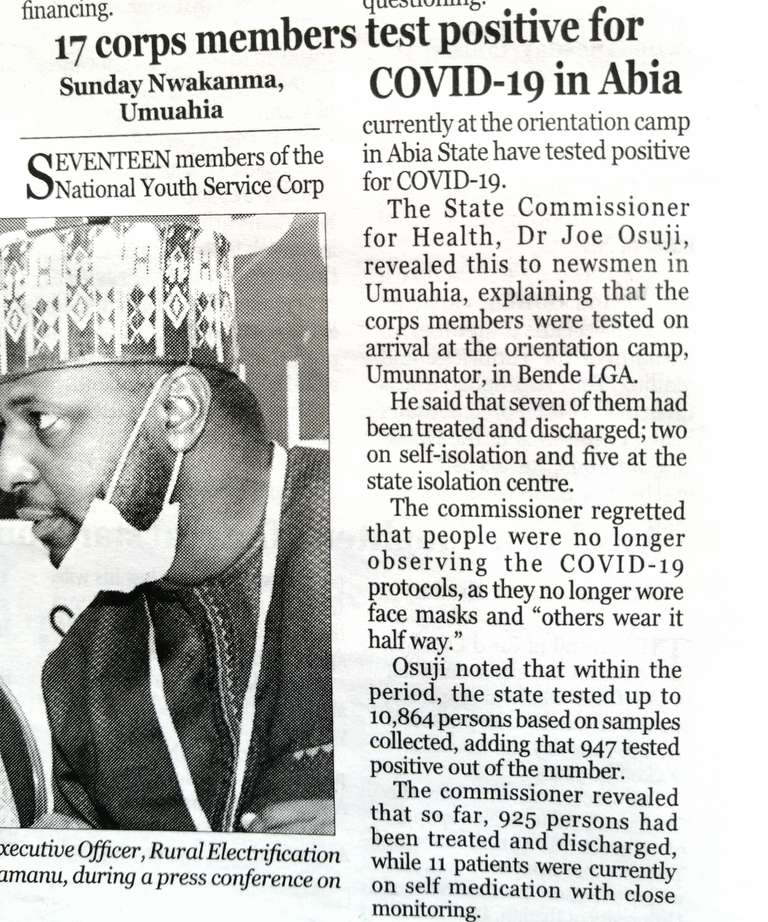 On December the 3rd, [Day 3 of Diary of Discourse], The Nation Newspaper, runs these stories page 8 - i. "Pfizer/BioNTech gets approval for roll-out in UK" and ii. "Putin orders 'large-scale' vaccination in Russia" and Jelili Atiku responds with HEAR ME WELL.
On Day 4, Jelili Atiku references The Guardian Newspaper, December 4, 2020, page 3:
"Senate urges FG to procure COVID-19 vaccines for Nigerians", by Chinedum Uwaegbulam, Chukwuma Muanya and Azimazi Momoh Jimoh. The title of his performance is Forest Full of Medicine (Diary of Discourse IV).


On Saturday December 5, 2020, Jelili Atiku references an article on page 7 of the Vanguard, "Insecurity: Governors to meet with Buhari to address security challenges" by Henry Umoru.
He responds here with the video Dear Governors (Dairy of Discourse V).


The Sunday Punch Newspaper insert listed the regional breakdown of COVID-19 cases on the December 6, 2020 (page 2) and prompted Jelili Atiku's performance 68,937 Confirmed (Diary of Discourse VI).