Diary of Discourse VII - : Jelili Atiku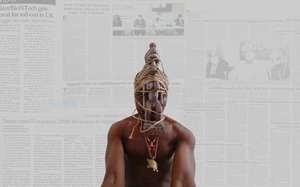 The Diary of Discourse continues into the second week of December with Jelili Atiku's performances and commentaries on politics and COVID-19 in Nigeria. Pausing to reflect upon the connections between global politics, economy and the lived experiences of Nigerians throughout this period, Atiku's powerful performances provoke reflection.

The Nation Newspaper article "Central bank tackle COVID-19 with monetary measures" by Collins Nweze, on December 7, 2020, page 2-3. In Policy Actions (Diary of Discourse VII), Jelili Atiku symbolically performs using coins from different countries.


The Nation Newspaper, December 8, 2020, page 2-3, "Death, fear as yellow fever swells Covid-19 crisis" by Adekunle Yusuf. In his powerful performance, Who Dies, Dies, and Who lives, Lives (Diary of Discourse VIII), Jelili Atiku provokes one to reflect on the tragic resurgence of Yellow Fever and a spate of related deaths across Bauchi, Benue, Delta, and Enugu State.